Domestic violence is the leading cause
of homelessness for women and children.
Your support this Winter will help provide emergency accommodation, financial support, as well as material assistance to help families like Leah and Charlotte start again.
Food for women and children
Your donation can provide basics like food and toiletries for a woman and her child after they have fled from an abusive situation, so they can survive the first few days.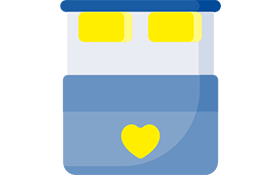 Help with the essentials
Your donation can help cover essentials like bills, or larger expenses, such as whitegoods and furniture, so mothers like Leah can provide a safe home for their children.
Support to keep safe
Your donation can help with rental bonds or payments so that women and children like Leah and Charlotte can have a place of their own to start again.
All donations over $2 are tax-deductible.
Domestic violence forces too many women to make desperate choices. For two frightening years, Leah and Charlotte lived in their car and spent their days in parks because they had nowhere else to go.
Thankfully, Leah connected with Vinnies volunteers, Frank and Narelle, who were able to secure her and Charlotte a place at a refuge. They then helped Leah and Charlotte get back on their feet and into their own home.
"Vinnies saved my life," said Leah.
Tragically, the number of women experiencing domestic and family violence has increased significantly in the past two years, leaving many emergency refuges and support services unable to cope.
Your gift this Winter will provide the emergency accommodation and material assistance needed for women and children like Leah and Charlotte to escape the danger and rebuild their lives.

Learn more about Homelessness in Australia here.