A little help can go a long way
Food in tough times
Your donation can provide nutritious food supplies to assist young people with improving their well-being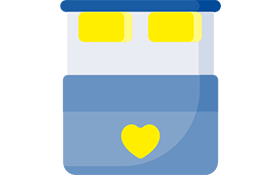 A place to rest and recoup
Your compassionate donation can help provide accommodation for a young person experiencing homelessness due to a crisis situation
Willow's Story
Willow had already seen and experienced more than anyone should have. Willow's mum was caught up in alcohol and drug use and couldn't provide the parental support and guidance a young person like Willow needs. Willow had seen first-hand how alcohol and drug dependency can harm lives. She knew what it was to feel unsafe in her own home.
Eventually the home became unsafe for Willow and her younger sister. They ended up couch surfing between their older sisters' houses with nowhere to live. Her future looked bleak.
Thankfully Willow's older sisters introduced her to youth workers at Passages Youth Engagement Hubs.
Passages is a joint venture between Vinnies WA and Rotary Club of Perth and Mandurah that provides a safe place where vulnerable and at-risk youth can find practical help and support.
The Passages team helped find accommodation for Willow and her sister and Vinnies stores were able to furnish their new home. The team also connected Willow with local education providers. Willow trained as a barista and joined a community program and learned how to drive. She passed her driving test with flying colours and now she has more employment opportunities options for the future.
5291 young people accessed Passages Youth Engagement Hubs over 2021/2022.
It's because of generous West Australians like you that Passages can continue providing personalised and specialised support to young people who need it most.