Women over 55 are experiencing homelessness at alarming rates.
Your generosity will provide shelter, food, clothing and long-term support to many people in crisis including our mothers, grandmothers, friends and neighbours - and help rebuild their lives.
You'll provide food and clothing
Your donation will help give nutritious food and winter clothing to an older woman in crisis. You'll help make sure she has the basics she needs to survive the cold weather.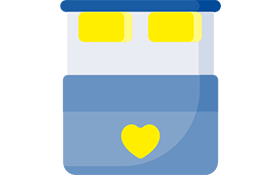 You'll help pay for emergency accommodation
Your donation will help cover the cost of crisis accommodation, so an older woman has a safe place to sleep.
You'll help her rebuild her life

Your donation will help an older woman into long-term housing and help provide furniture and white goods for her new home.
All donations over $2 are tax-deductible.
Your donation will help fund our wide range of services that help people experiencing or
at risk of homelessness including women over 55 like Joan.
Joan was 70 years old when she became homeless. After her beloved husband of 50 years died, Joan's eldest daughter stole all of her savings, and transferred the house into her own name.
Then they kicked Joan out of the family home and left her on the street.
She was desperate, terrified and completely alone.
But the shocking truth is, older women like Joan are becoming homeless in record numbers.
They're our mothers, grandmothers and aunts. They've cared for others their whole lives, and deserve to enjoy their golden years feeling safe and secure. Instead, they're being forced to sleep rough and fight to survive.
This winter, women like Joan urgently need your help.
Donate now and you'll help provide emergency accommodation so vulnerable older women have a safe place to sleep. You'll help give nutritious meals and warm clothing to keep them healthy and warm. And you'll help give the support they need to rebuild their life – and escape homelessness.
Please give generously.