Many Australians need your help today
With cost-of-living pressures growing, many West Australians like Peter are just one unexpected event away from breaking point. Your generosity will help vulnerable familes like Peter's put food on the table, pay their bills and stay living in their homes.
Food for families
Your donation can help provide families like Peter's with food vouchers and hampers so they don't go hungry.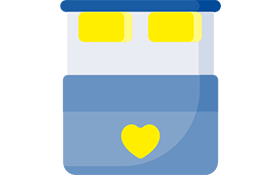 A roof over their heads
Your donation can help with rent or mortgage payments so a family can stay living safely in their home.
Vinnies WA Autumn Appeal
Often, all it takes is one bad break to push a family to the absolute limit. That's exactly what happened to Peter.
Things were going well for him. He had two beautiful children and a wife he adored. Together, they'd worked hard to build a safe, loving home for their family.
Then, tragically, Peter's wife Sally was diagnosed with terminal cancer. He soon found himself struggling to cover the cost of Sally's treatment while paying the mortgage and bills, putting food on the table and raising the children – all on a single, part-time income.
Then Sally lost her battle with cancer. It was heartbreaking for Peter and their children Mya and Riley, but that didn't stop the bills from continuing to pile up.
"At the same time as I was trying to grieve, my financial situation kept getting harder and harder," Peter says. "Then I had to pay for my wife's funeral. Everything costs money, even burying your loved ones."
Realising the situation was beyond his control, Peter reached out to Vinnies for support.
He soon received a visit from Vinnies team member Charlie, who sat with Peter and listened to his story with compassion.
"Peter had been through so much," Charlie says. "Firstly, he went from two incomes and life looking rosy, to trying to manage everything on one part-time income. "And if he hadn't already been through enough, interest rates and inflation started shooting up at the same time as he was trying to grieve for his wife."
The emotional support provided by volunteers like Charlie is also vital.
"Even at the best of times, it can be really isolating for people like Peter who haven't got family around them," Charlie says.
"I was able to sit with him, listen to him and care for him. I think that companionship was a big help as he put his life back together."
Peter can't bear to think how things might have turned out had he not reached out for help when he did.
"I'm very thankful to Vinnies," he says. "If they had not been there, I don't know what I would have done."
Your gift today will help provide urgent practical, financial and emotional support to West Australian families during their time of need.