Every person deserves to have hope for a future.
MEET JOHN

John is a father who is hardworking and passionate about his role as a farm manager. He dedicated his life to his career until he faced a sudden job loss. This unexpected setback took a toll on John's mental health, as he had always relied on his work as a coping mechanism.
For a long time John struggled, going in and out of hospital seeking treatment for depression and attempting to find stable accommodation in share houses without success due to his persistent health challenges.


One day John was given
a path forward by a social worker in the form of a referral to Vinnies Mental Health Services (MHS) that offered him the support he needed.
Vinnies assisted John with support workers and accommodation where he could focus on building coping strategies. With the team walking aside John assisting him to navigate his recovery journey, and with the unwavering support of his daughter, his mental health stabilised.

John's journey is nothing short of inspiring. With the support he has received, he's unearthed a newfound sense of purpose through dedicated volunteer roles in farming and animal care organizations. These endeavours have filled him with a deep sense of satisfaction and ignited a wellspring of motivation within him.

With your kind and generous support we can help many West Australians like John find a way forward with hope for a brighter future. Please donate to Vinnies Spring Appeal today.
A little help can go a long way
Food in tough times
Your donation can provide nutritious food supplies to assist people with improving their well-being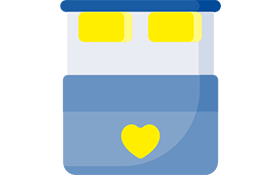 A place to rest and recoup
Your donation can provide accommodation in a Vinnies Community Share House for a person at risk of homelessness