Many Australians need your help today.
Food in tough times
Your donation can provide money for groceries, reducing hunger and removing a major stress for families.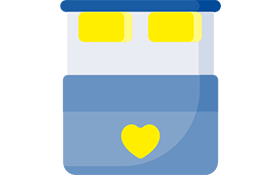 A place to rest and recoup
Your donation enables us to help individuals and families find a safe place to sleep when they have nowhere else to go.
Your gift will help fill rumbling tummies...
Fleeing her homeland with her husband, Miriam arrived in Australia seeking safety and a brighter future. As a mother of two young children, Miriam is struggling to make ends meet.
Imagine, as a parent, being forced to choose between life-saving medication and putting fresh food on your children's plates.
"It breaks my heart when my children come home and ask me, 'Mummy, can I have an apple tomorrow?' or sometimes they ask, 'Mummy, why don't I have enough food in my lunch box?'", says Miriam.
In Victoria, demand for our Vinnies Soup Van support has increased to 780,000 meals over the last year and to answer that Vinnies introduced a mobile pantry to meet the need in the Berwick area to serve the people in need.
As the demand for the Mobile Pantry grows, we must answer the call. The number of families waiting in line has risen by over 235%, and in January 2023 alone, we served more than 5,000 meals to those in need—the highest since its opening.
Every act of kindness counts. Your contribution will change lives and bring smiles to the faces of those who need it the most.
Please give generously and share the gift of hope today.
*Name and image have changed to protect privacy of the people. "