Your kindness can provide practical support to get them through Christmas and beyond.
Food for families
Your donation can provide food for a family to get them through a crisis and ensure they don't go hungry.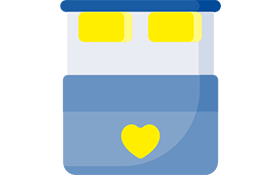 Support through a crisis
Your donation can assist with rental payments, so a family can maintain their home during times of crisis.
"When the woman came out of the tent and we saw she was pregnant, I thought 'We're not leaving her here. We've got to do something'." - John, Vinnies Volunteer.
Heidi was heavily pregnant and living in a tent. She and her partner Nikolas had lost their home, and when they could no longer stay with family and friends, they had no other options. Thankfully, our Vinnies' Volunteers could be there to help Heidi and Nikolas get back on their feet.
This Christmas, many families like Heidi and Nikolas' are struggling. Since the pandemic began, many have lost work, and now as the bills continue to mount, some are struggling to keep a roof over their heads.
With a growing number of families turning to Vinnies this Christmas, in critical need of assistance, your support is urgent.